Whether you're a big fan of the game or not, the SuperBowl is a wonderful excuse to get together with family and friends. The big question is: stay in or go out? Why not make it a stress-free Superbowl Party this year and let someone else do the hosting, cooking and cleaning!
Here are some of our Top Picks (in alphabetical order):
Aqua Pazza in San Mateo, a family owned and operated establishment, offers a full bar featuring original cocktails with fresh local produce and liqueurs handcrafted by Tullio and his wife Renee. Housemade limoncello, cucumber canteloupe, watermelon mint, basil, and espresso cream are a few favorites. Aqua Pazza is at 201 E. 3rd St. San Mateo.
Capers Eat And Drink features casual American bistro dining at its finest in a comfortable, cozy, chic setting. Offering a large menu with many appetizers to choose from, selections include crispy calamari to carpaccio, and sandwiches such as the Monte Cristo and their infamous Grilled Chicken Sandwich. Dinner choices including Cajun Ahi Tuna to Porterhouse Steak. Capers is located at 1710 W. Campbell Ave. in Campbell.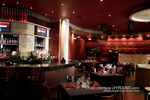 Fahrenheit Lounge, located in the heart of Silicon Valley, is a modern ultra lounge perfect for entertaining, as well as for off-site corporate receptions and meetings. With four distinct areas — restaurant, main bar, dance floor, and VIP Lounge — Fahrenheit offers up something for even the most discerning guest. Featuring 7 Plasma TVs and 2 10-Foot Projectors and a special Super Bowl Menu, catch the game at Fahrenheit Lounge, located at 99 E. San Fernando St. San Jose.
Located in a lakeside business park lies one of Sunnyvale's best kept secrets: Faultline Brewing Company. Brewing over 20 different ales and lagers throughout the year, there is bound to be something to please any palate. Their menu has a broad range of choices from traditional "comfort food" like Pot Roast or St. Louis BBQ Ribs to unique dishes like our Pistachio Crusted Pork Chops or our famous Tempura Ahi Rolls. Relax in the outdoor patio with an ice cold beer, enjoy Happy Hour while watching your favorite sporting event or have a wonderful dinner with family and friends! Faultine Brewing Company is located at 1235 Oakmead Pkwy in Sunnyvale.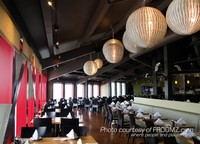 The newly opened Hana Zen at Pier 39 lays emphasis on its world-class breathtaking and magnificent panoramic views of San Francisco Bay, Golden Gate Bridge, and Alcatraz Island. Perfect for company parties or family gatherings, bar packages start at $250 (minimum bar guarantee) for 25 guests. Pricing available for larger parties. Free 2-hour validated parking. Hana Zen is located at the end of Pier 39 in San Francisco.
Hobee's has satisfied thousands of healthy appetites with fresh, distinctive cuisine since 1974, when the first restaurant opened in Mountain View, California. Today, Hobee's is an award-winning phenomenon boasting nine popular locations throughout northern California, including Redwood Shores, Campbell and Los Gatos. Hobee's customers enjoy fast and friendly service in a casual, homey atmosphere. The restaurants cater to a delightfully diverse clientele: students, businesspersons (including the who's who of Silicon Valley high-tech), families, seniors and celebrities all feel warmly welome at Hobee's.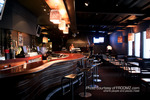 The stylish Intra Lounge is located inside Intramuros Restaurant & Lounge in South San Francisco and is equipped with a full bar, LCD TVs, oversized leather couches, and top-shelf labels to please even the most discriminating clients. Bar packages start at $250 for 25 guests. Pricing available for larger parties. Free parking. Intramuros is at 101 Brentwood Dr. So. San Francisco.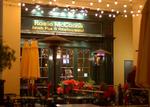 Cead Mile Failte! 100,000 Welcomes! is not just a slogan at Rosie McCann's, it is the mission statement. The pub has always been a place of camaraderie and Rosie McCann's exemplifies the best in Irish hospitality. Bar packages start at $180 for 30 guests. Includes 30 well drink tickets all inclusive. Additional guests at $5/person. Mixer packages start at $400 for 20 and includes 1 appetizer platter + 1 drink/guest (beer/wine). Tax/Tip included. Rosie McCann's is at 355 Santana Row San Jose.
Shiro is Walnut Creek's premiere Sushi Bar and lounge, offering an intimate ambiance for its guests with a sleek modern lounge interior design. Shiro is best known for its exceptional sushi fusion rolls using AAA premium grade fresh fish, Thai Fusion entrées and for Shiro's award winning martinis (over 20 top shelf martinis). Shiro is at 1523 Giammona DriveWalnut Creek, CA 94596.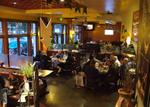 Come experience
Sonoma Chicken Coop Restaurant and Brewery
in Downtown Campbell. You'll love the homemade breads, elegant entrees, salads, desserts, and custom micro-brews that have earned rave reviews from patrons over the years. From signature dishes like our rotisserie chicken and seafood pastas to weekly specials, you'll be amazed that food this good can be so light on your pocketbook. The main floor features a spacious bar area with widescreen HD TVs. Sonomoa Chicken Coop is located at 200 E. Campbell Ave. Campbell.